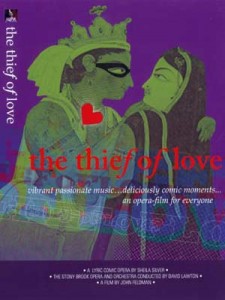 The Thief of Love DVD is here!
BUY NOW for $19.99.
Free shipping anywhere in the world!
Filled with twists and turns, The Thief of Love is a contemporary love story set in ancient India. Vidya has vowed to marry any man who can defeat her in intellectual debate. Sundar is a wealthy game player who tries to win her through deceit and disguise. They both must conquer their pride and arrogance before true love can prevail.
From the erotic seduction scene to the mystical dream sequence, the Stony Brook Opera's fresh and mesmerizing performance beautifully captures the spirit of this dazzling new opera, while Feldman's visually stunning film with its innovative use of subtitles makes the opera experience both cinematic and accessible to everyone.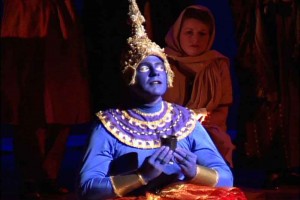 If you like great classical music, a good story, and stunning filmmaking, then this DVD is for you, your friends, kids and grand kids (ages 10 and up). If you've never seen an opera and think they're only for stuffy people in fancy clothes, you'll be surprised how entertaining and down-to-earth opera can be. Our DVD has bright beautiful subtitles, so you can follow every word. The Thief of Love DVD will open your ears, your mind, and your heart.