Symbiotic Earth Trailer (1:30) from Hummingbird Films on Vimeo.
Symbiotic Earth 
A new film about Lynn Margulis, a scientific rebel who challenged entrenched theories of evolution, to present a new narrative: life evolves through collaboration.
Here's a current list of upcoming screenings
Viewer Responses to Preview Screenings
Symbiotic Earth leaves us looking at the world in a new light, understanding it better and yet more than ever aware of its essential mystery. Despite its length the film never flags and we deeply regret when the end comes because it means saying goodbye to Lynn who, setting aside her scientific legacy, exemplifies what Aristotle calls the well-lived life.  Dr. Robert Sternberg, Science Communication Unit, Imperial College London
Bravo again for composing a message as important as Silent Spring. Lisa Jacobson, artist, MayBeArt.org
An astonishingly important, deeply transformative, and original film — historic in fact.  Its momentous news that all biological life (including ours) succeeds not by competition but by collaboration offers ways to resolve even our devastating global climate emergency. – Bill Blakemore, Veteran journalist and ABC foreign correspondent
This splendid film gives us insights into Margulis' prolific career; and into the woman, whose vitality explodes across the screen with the force of a slow-motion supernova. I was by no means the only person who came away feeling I'd just witnessed a fifth force of nature." Margaret Wertheim, science writer, Melbourne, Australia.  Read Margaret's blog posting about the film.
THANK YOU for making such an important, thought provoking, and beautifully shot film. (Not to mention the evocative soundtrack)  Martin Ping, Executive Director, Hawthorne Valley Association
The film is terrific. Exhilaratingly intelligent, very important and revelatory, and a look at a pioneering woman that many people do not know anything about. Alan Gelb, Author
Wonderful film. Informative, engaging, moving and inspiring. Just what a film about a powerful new way of thinking should be. Great Music. I'm proud to have played a small part. James Shapiro, University of Chicago Department of Biochemistry and Molecular Biology, author of "Evolution: A View from the 21st Century"
I was mesmerized by your beautiful and powerful film at the BU screening this past week. The film and the stimulating discussion afterwards represents for me everything that's good and beautiful about biology. The film not only captures Margulis' work so vividly and elegantly, it also left room for some fascinating and nuanced disagreements.
Yarden Katz, Departmental Fellow in Systems Biology at Harvard Medical School
It was riveting. A wonderful achievement. Beautifully shot with many creative touches that are welcomed and never overdone. Using your first person narrative really personalizes it for the audience, esp with cut-ins where you are looking out the windows and beautifully the exterior becomes what you are thinking of, imagining in your narrative. Dr. Douglas Zook, Professor of Ecology, Boston University
I love it. I thought you managed not only to convey Lynn's basic ideas very well but also portrayed her as a working scientist who gets her hands dirty. It was typical of her that she always talked about very concrete biological realities, and that comes across very well in the film. Dr. Fritjof Capra, author of The Tao of Physics
I truly loved this film. I only wish I could see it again! Though it is not short … it is truly engrossing. I learned so much and wanted to go back for more! Miranda Barry, former Executive VP of Content, Sesame Street Workshop
I'm the person who commented after the preview that this is he best documentary I have ever seen. Eleanor Magid, Professor Emerita, Dept. of Art, Queens College CUNY
Bravo on your thoughtful and moving documentary about Lynn Margulis and her astonishing, revolutionary scientific thinking and career. This film should be required of many introductory college courses, from the physical and life sciences to the social sciences. Mark Leckie, Professor of Geology and Earth Systems, UMass, Amherst
Thank you so much for the wonderful film! It was a wonderful experience to watch and "feel" its message. The film celebrates the scientific mind the passion of the individual and the bumpy roads that science sometimes requires us to navigate. Your film is just brilliant! like Lynn! Julie Brigham-Grette, Professor Glacial Geology and Arctic Paleoenvironments
I was one of the lucky ones, through the good offices of Jim MacAllister, to see Symbiotic Earth at Umass last Saturday. I found it to be very powerful, and I am writing to thank you… John, your film is a pot of gold, amenable to restructuring for different purposes and audiences. Woody Bliss, Amherst, MA
Congratulations – what a wonderful film, Lynn's energy, optimism, good humour, mischief and awe leap off the screen. Daryl Taylor, organizer of preview screening in Melbourne, Australia
It is totally captivating. … absolutely riveting. Also really good videography — good narrative and superb production values. It's very special. It really sort of blew me away. And, for sure, it creates a whole new way of thinking about the beginnings of and development of life.   Ross Gelbspan, Pulitizer Prize winning reporter and editor at The Washington Post and The Boston Globe, author of Boiling Point
Symbiotic Earth conveys one of the most important biographies of the last 50 years. It's no exaggeration to say that Lynn Margulis' contribution to science is in the same league as Jim Watson, Francis Crick, Stephen Hawking and Barbara McClintock. It profiles a contrarian woman who was a force of nature, without indulging in sentimentality or bitterness about how long it took for her ideas to get accepted. Everyone who is interested in living things, evolution, or the environment must watch this."
Perry Marshall, Author of Evolution 2.0
SYMBIOTIC EARTH
A film in ten essays and an epilogue by John Feldman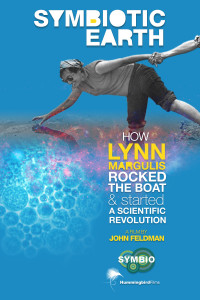 Symbiotic Earth explores the life and ideas of Lynn Margulis, a brilliant and radical scientist, whose unconventional theories challenged the male-dominated scientific community and are today fundamentally changing how we look at our selves, evolution, and the environment.
As a young scientist in the 1960s, Margulis was ridiculed when she first proposed that symbiosis was a key driver of evolution, but she persisted. Instead of the mechanistic view that life evolved through random genetic mutations and competition, she presented a symbiotic narrative in which bacteria joined together to create the complex cells that formed animals, plants and all other organisms — which together form a multi-dimensional living entity that covers the Earth. Humans are not the pinnacle of life with the right to exploit nature, but part of this complex cognitive system in which each of our actions has repercussions.
Filmmaker John Feldman traveled globally to meet Margulis' cutting-edge colleagues and continually asked: What happens when the truth changes? Symbiotic Earth examines the worldview that has led to climate change and extreme capitalism and offers a new approach to understanding life that encourages a sustainable and symbiotic lifestyle.
Symbiotic Earth runs for 2 hours and 27 minutes.  It is divided into 10 essays and an epilogue.
Essays
1.  How Lynn Margulis Coerced Me Into Making This Film
2.  How Science Gave Us Permission To Exploit the Earth (aka: From Reductionism to Systems Thinking)
3.  Confronting the Neo-Darwinian Capitalistic Zeitgeist (aka: How Science Gave Us Permission To Exploit Each Other)
4.  Lynn Margulis' Lifelong Quest
5.  Working Together (aka: How Did She Do It All?)
6.  Bacteria Run The Planet
7.  Symbiosis Is The Way Of Life
8.  The Cell (Not DNA) Controls the Organism
9.  Evolution Through Mergers
10. Gaia:  A Physiological System On the Surface of the Earth
Epilogue: Embracing How Little We Know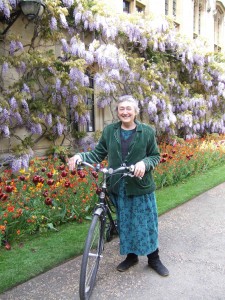 Premieres
Oxford University, March 3, 2018 – Hosted by Voices from Oxford and The Third Way of Evolution. Panel discussion following screening: Latest ideas about evolution
Barcelona, Museu Blau, March 2018 – Hosted by Barcelona Knowledge Hub, Academia Europaea and Museu de Ciences Naturals de Barcelona. Panel discussion following screening: Bacteria and the microbiome
Berkeley, March 18, 2018 – Hosted by Bioneers and the David Brower Center. Panel discussion: Gaia, systems thinking, and the environment.
Host your own community screening
The premieres will be followed by a global network of community screenings. To set up a screening contact susandavies at hummingbirdfilms.com.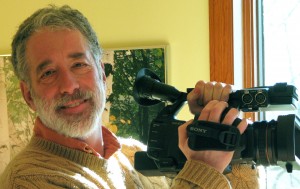 John Feldman is a critically acclaimed and highly original award-winning filmmaker. He has a BA in Biology from the University of Chicago and is an avid naturalist. He met Lynn Margulis when he was making his documentary: EVO: Ten Questions Everyone Should Ask about Evolution (2011, CINE Golden Eagle Award). His independent dramatic feature films include the pioneering digital video production Who the Hell is Bobby Roos? (2002, New American Cinema Award, Seattle International Film Festival), Dead Funny (1995, starring Elizabeth Pena and Andrew McCarthy), and Alligator Eyes (1990, First Prize Audience Jury San Sebastian Int. Film Festival). His early short films earned many festival awards.  CONTACT:  jfeldman@hummingbirdfilms.com
Go to: Symbiotic Earth Scientists and Scholars
Go to: Symbiotic Earth Filmmakers
Go to: Background information about Symbiotic Earth
Go to: Donate to Symbiotic Earth