The story of a man who could be anyone but
himself.
Who the Hell is Bobby Roos? is an award-winning independent feature by John Feldman starring Roger Kabler. It tells the "nearly true" story of Bobby Roos, one of the world's greatest celebrity impressionists.
This is not an ordinary movie. It's provocative, disturbing, startlingly realistic, and hilarious. It'll open your mind as well as your heart. Critics and audiences love it, but if you are looking for lightweight escapist fare, don't read any further.  If you like thought provoking entertainment then by all means, buy it now.  It's available on amazon.com and right here with free shipping!
$19.99 including shipping
"Fascinating, astonishing, and morbidly hilarious… a killer DVD!" Variety
"At times amusing, at times disturbing, this film stays with you long after it's over." Vancouver Sun
"This raw mesmerizing film is a tour de force for an amazing actor-impressionist" Seattle International Film Festival
"On the frontiers of cinema, suppressing all distinction between fiction and reality, this film presents a life situation beyond parameters and wonders about the true status of madness. An unusual experience for the audience, stretching the limits of the possible." Quintin, Buenos Aires International Film Festival.
SYNOPSIS: Who the Hell is Bobby Roos?  He is a great celebrity impressionist who dives so deeply into the characters he impersonates that he forgets who he really is.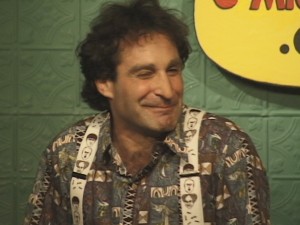 Once a rising Hollywood star, Bobby Roos is now playing to small audiences in New York City clubs. One night a heckler ignites Bobby's repressed rage, and — still in his De Niro persona — he attacks the man.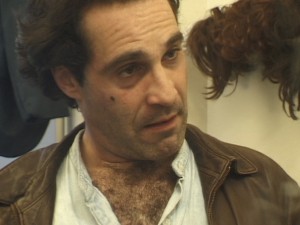 Black-balled from the club scene, lonely and desperate for an audience, Bobby takes his impressions to the streets. Looking for love, he puts on his De Niro face and picks up Emily at a grocery store. Their relationship is promising… except Bobby is no longer Bobby Roos…he is a man possessed by a host of celebrities who drive him to the edge of sanity.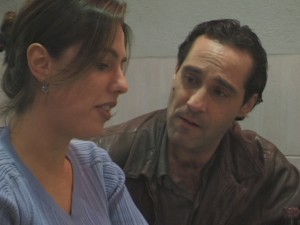 THE DVD
As if the movie "Who the Hell is Bobby Roos" isn't cutting edge enough, the DVD is filled with features that put other DVDs to shame.  These features include the now famous "The Osama Bin Laden Audition Tape."  What's the story with that?  George Bush and his fellows are planning to stage the capture of Osama, but they need someone to play Osama bin Laden, so they hold auditions.  We show here a top secret video of Osama bin Laden himself reviewing the audition tape. Click here to see it now.
There's also "SideShows" our unique interactive feature which lets you expand the movie to see more comedy and more drama; The Bobby Roos Movie Trivia Challenge, a game for the expert trivia buff, Bobby's Wacky 8 Ball, a 30 minute documentary on Roger Kabler entitled "The Man Behind Bobby Roos", an interactive interview with director John Feldman, four complete performances from Bobby's archive, and much more.